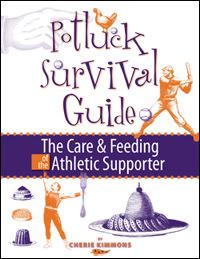 By

Cherie Kimmons

What's this book about?

"Potluck Survival Guide, a light-hearted handbook for beginning and experienced cooks, helps frazzled parents, volunteers, event chairs and novice hosts feed the masses while keeping their sanity. Author Cherie Kimmons, who has spent years in the cooking trenches, helps readers prepare all-time potluck favorites for school, athletic, scouting, band, social and church events. Featuring kid-tested and approved recipes (with modifications for adult palates), the guide includes a unique section of in-depth recipes that serve as a starting point for endless variations. It also explores considerations for feeding young children and athletes, buffet strategies, decorating tips and fun menu ideas."
I was so excited when Five Star Publications sent me this book to review. I have so much trouble figuring out my weekly meals. This is a great addition to my collection of recipes.
The Potluck Survival Guide is a great resource for feeding large groups of people. I always have trouble figuring out how much to serve and I have had times that I run short on servings. My favorite part of this book is "the food bar" options. The author gives suggestions for several different food bars and how the presentation should be. My favorite food bar is the sundae bar.
I highly recommend this book to anyone. It has a lot of great recipes, ideas and tips. The book itself is good quality and is over 150 pages. You can purchase the The Potluck Survival Guide from Five Star Publications for $18.96, regularly $24.95. This would make a great gift!
Disclosure: Mama Buzz- and reviewers - received a complimentary copy of this book for blog tour purposes.