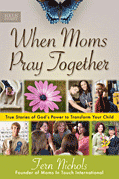 When Moms Pray Together
by Fern Nichols
Put out by: Tyndale

Price: $13.99

Book Info (as taken from the Tyndale site): Moms in Touch International is an organization that brings moms together to pray for their children and their children's schools. As MITI prepares to celebrate its 25th anniversary, Fern Nichols, the founder and president, has collected some of the most inspiring and encouraging stories of God's work in answer to those prayers. When Moms Pray Together will inspire and equip mothers to pray more consistently and hopefully for their children while encouraging them through the stories from moms everywhere.

Disclosure:
Mama Buzz- and reviewers -received a complimentary copy of this book for blog tour purposes.
This is a great book for moms. I was so excited when I was given the opportunity to review this inspiring book. Mom's need the support of each other and this book helps you relate to one another with true stories from mothers.This book shows how powerful prayer is and that God is always listening, you just need to open up and let him in.
This book is a great value and is a must have for all mothers. We often forget that we need the support of each other. This would make a great gift or just a "thinking of you" kind of gift