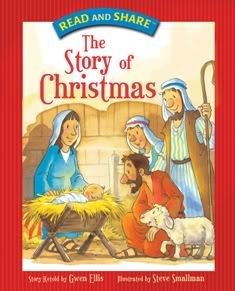 The Story of Christmas

by Gwen Ellis

Illustrated by Steve Smallman

Ages:

4-7

Put out by:

Thomas Nelson

Price:

$10.99

***Disclosure: Mama Buzz and reviewers, received a complimentary copy of this book for review purposes.

"

Based on the International Children's Bible, this book begins with the birth of John the Baptist. Next comes the angel appearing first to Mary, then to Joseph, the trip to Bethlehem, the birth of Jesus, the angel's announcement to the shepherds, the wise men and their gifts, fleeing to Egypt, and at last heading home to Nazareth. The "Can You Retell the Story" activity at the end of the book is a fun way for children to learn to tell the story themselves."

When my children and I sat down to read

The Story of Christmas

it was everything I hoped it would be. The book starts off with events leading up to Jesus' birth. It has actual scripture with illustration of each scene. It also comes with a DVD that shares stories from Jesus' life. I can't express how much I love this book. It is so important for our children to know why we celebrate Christmas.

My husband and I just recently let our 4 year old girls know that Santa is not real. They don't believe us but we keep telling them. I explain that it's Jesus' birthday and he gives us gifts for his birthday. This book does an excellent job teaching the children the true purpose of Christmas. It is a hard back book with beautiful colors. I recommend everyone purchases this book, it is more than worth the price and can really help some children out there. God Bless!